SIGMONDO
Your Display Butler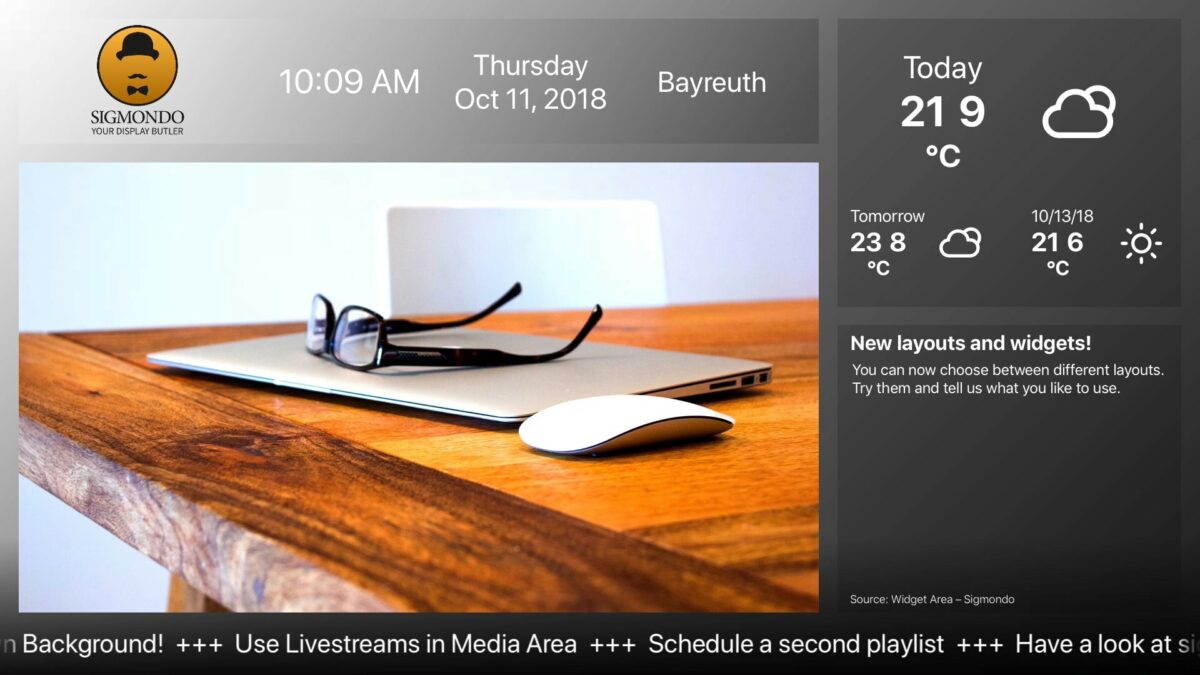 Combine PICTURES, VIDEOS, TEXTS and LOGOS
Sigmondo is your personal display butler for your digital signage needs. Combine pictures, videos, text and logo. Show it at your retail store, your lounge or lobby or any other room where you want to attract attention.
Use predefined stylish layouts with date, clock and weather information, change the background to your business needs.
Sigmondo is available for Apple TV (Version 4 and later).
Calendar integration is finally here!
Use your calendar! Sigmondo can now show upcoming events from your Apple or Google calendar or any other compatible iCal URL you provide in all of our  widgets.
Make sure to update to the latest SIGMONDO version 4.3.2 from the tvOS App Store to use the new integration.
Use CASES
As we know from mails, Sigmondo users come from all over the world and use our software at a lot of facilities.
What OUR CUSTOMERS tell us
We get a lot of feedback from you. Please send us your feature requests or comments about Sigmondo. We'd like to develop our app to your needs.
That is working like a bomb – thanks very much!
Thanks again for the excellent product and for your communication.
We love Sigmondo! We use it at our church and it has been a huge asset.
Thank you for the prompt reply. Fantastic support and I believe you have a very promising app that'll help a lot of small businesses.
Thanks for making such an awesome app! I'm using it in a church setting for digital signage and it works great.
Really like your app it fit's our needs very well.
We are really loving the Sigmondo app at our school on our Apple TV!
I've been using Sigmondo for the entire school year and it's working out great!
Super. Wir sind sehr zufrieden. Meine Kollegen begeistert.
I believe this software is the solution to my digital signage needs and i appreciate your help.
We use Sigmondo in our retail shops, and love it. We really appreciate the work you've put into it, and it has really helped with our in-store advertisements.
Wow, you guys are great. This is perfect.
Your app seems extremely intuitive and perfect for those with one or only a few displays.
Just wanted to drop in and say thank you for creating Sigmondo. It has been a great solution for our building. Keep up the good work.
We currently have been using Sigmondo for over two years and we really love the product. We use it for signage around our building.
I really like your software.
I just wanted to say Thank you. I love the Bullet List! Keep up the great work.
I am just learning to use your app and I think the people at my school will be impressed with what it can do so far.
We've just completed our first test using properly designed content for Sigmondo and are quite pleased. Thanks for producing this great reasonably priced product.
I was honestly blown away what I was able to do with your great app. It's a fantastic app.
Hello and thank for an amazing work. love the app.